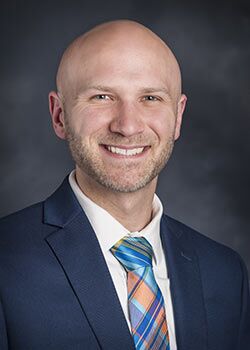 Parkville, Mo. – May 10, 2018 – The Board of Directors of the Parkville Economic Development Council (Parkville EDC) is pleased to announce and welcome Nathan BeVelle as its new Executive Director. Nathan will be responsible for working with the council's executive committee and members to lead, manage and coordinate the EDC's operations and promote business and job development in the City of Parkville. The Executive Director serves as a liaison with public, private, and non-profit organizations for business attraction, creation, expansion and retention activities within the City. Nathan officially assumed the role February 28th.
Nathan joins the PEDC with more than 5 years' experience in the Department of Economic Development for the State of Missouri. He previously served 11 years as a non-commissioned officer in the US Army, the Missouri Air National Guard and the Missouri National Guard. He is a graduate of Missouri Western State University.
"We are fortunate to have a committed, qualified executive of Nathan's caliber join us to lead the council's mission to promote our unique business culture and strong community spirit," says Brad Kleindl, Parkville EDC executive committee chairperson and dean of the College of Management at Park University.
The Parkville EDC partners with the city, local business leaders, allied partners and committed investors, including the Parkville Chamber of Commerce, Main Street Parkville Association and the City of Parkville among others, to actively promote Parkville as a great place to live, work, learn and play.
For more information, visit the council's website at www.parkvilleedc.com, where the theme, "Alluring History… Lasting Success," comes to life for businesses looking to expand, relocate or begin.