Lasting Business Success
The simple charm of Parkville is demonstrated through a strong community spirit in which our residents are proud to support local business. From Cafe Des Amis, a French fine dining restaurant in downtown Parkville, to the new Engaged Holdings, a 30,000 sq. ft. office building, Parkville is growing with visionary entrepreneurial spirit. We pride ourselves as a diverse community where the "little guy (or gal!)" can still build a great business in a city that can support the largest new developments.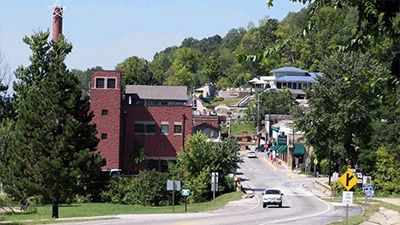 We can help your business grow through a strong core of leadership and assistance.
With Parkville's continued growth in business also comes a new group of homeowners seeking better education and homes for their families. There are many new home developments featuring high-end luxury apartment, maintenance provided townhomes and new single family development within our premier neighborhoods. We continue to strive to meet the housing demand of our workforce and are working hard daily to attract new development to ensure we continue to address the full housing needs of our community.
Convenient Access
With the recent expansion of Highway 45 (Tom Watson Parkway), intersecting with Interstate 435, the future for Parkville is brighter than ever. This new traffic flow opens up the opportunity for successful new development.
Parkville's convenient access to Kansas City's International Airport, downtown Kansas City and the Country Club Plaza shopping district and Legends Outlets offers a central location for our residents and employees to live, work and play while enjoying the simple charm of a small community and an environment of creativity, beauty and rich support.. We call it the Parkville Triangle.
We invite you to meet some of our business leaders and members of the Economic Development Council to find out why Parkville is the right choice for your business!
Platte County Growing Fast
2020 census shows Platte County's population growth of almost 20% since 2010.
Read the article